As a top-notch website development company in Qatar, Synergy Technology is using a range of CMS and web development frameworks. Our CMS expertise includes WordPress, Joomla, Drupal, SqareSpace, Magento, Mezzanine, phpbb, and punbb, enabling us to create fast, responsive, and scalable websites tailored to your business needs. We also specialize in building fully customized websites using Python, PHP, and ASP frameworks, with a focus on MVC architecture for easy customization by third-party web developers. Learn more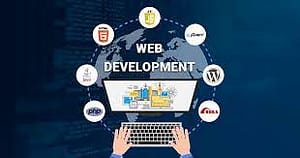 Our expert developers use frameworks like Django, Flask, Bottle, Zend, CakePHP, Laravel, and more to build robust and dynamic websites that are tailored to your business requirements. Our benchmarking tools ensure that all websites are acid-tested for minimal troubleshooting, maintenance, and maximum user experience before deployment on live servers.
At Synergy Technology Solution, we prioritize customer satisfaction and offer comprehensive user manuals and training to help you understand website administration, advertisement management, blogging, and content syndication. Our developers are always ready to accommodate your customization and adjustment requests, ensuring that your website is tailored to your business needs. Contact us today for top-notch website development services in Qatar. Here is the services at a glance…
CMS based website development
Online message board and social media website development.
Corporate website development
Ecommerce website development
Websites for SMBs and personal marketing
We acid test the websites before deploying to the live servers for better security, scalability, security and user experience.
We perform additional tasks for adjusting the websites according to client's requirements.
We provide short but complete demonstration on the website administration, content updating, advertisement management, visitor filtering and content syndication.
Upon request Synergy also do AMC (Anual Maintenance Contracts) specially for managing online community management websites like online forums, social media sites, ecommerce sites etc.