SEO Optimized Content creation will ensuring readability and quality is a big challenge. In Synergy we are capable of generating high quality articles while keeping them highly optimized for Google. On request we can deliver any article on nearly any niche. Our full time writer team do extensive research on both of your website and the niche to write the best match articles. We can deliver you the accent you need. Learn more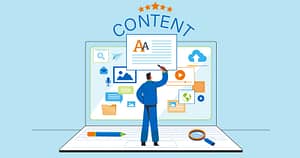 Either promotional or documentary or even Wikipedia type articles. For local Qatar based business we can also deliver Arabic articles. We will maintain keyword rich titles, leading paragraph, proper keyword density in body along with lots of LSI (Latent Symantec Indexing) keywords both in English and Arabic. Our contents are so rich so that often shared by partners and even competitors. While purchasing contents we request you to be careful regarding archived contents.
This is another really dirty way to generate bulk amount of articles using archive websites. The side effect is one day the main author might come up with a DMCA report and your site would get banned. Another risk is even though Google is not showing index history for the articles while you are checking it has been proved by several studies that old archive or deindexed articles perform poorly when compared with newly written and well organized articles.
We did a small survey and found some local Qatar based companies are creating contents using this old school technique to save their investment while making most out of the client's budget. Contact us