LAN and WiFi Network Setup in Qatar
IT connectivity has become an essential part of the modern world, and IT networking serves as the backbone of this connectivity. At Synergy, we offer a comprehensive range of LAN and WiFi Network setup services to our customers. As a reputed and trusted IT company in Qatar, we provide innovative IT solutions to help our clients stay ahead of the competition.
Choose Synergy Technology Solutions for your Networking and WiFi Solutions in Qatar because we are one of the most experienced and reputed IT companies in the region, with a proven track record of service excellence and domain expertise. Our advanced technological knowledge, robust infrastructure, huge talent pool, and adherence to global delivery standards give us an edge in this highly competitive field.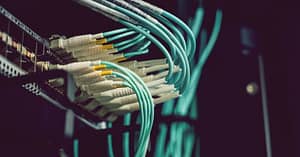 Our certified and experienced in-house engineers provide dedicated customer support to keep your business up and running on the path towards growth and success. We have formed strategic partnerships with leading technology vendors worldwide, allowing us to serve our clients in the best possible manner and stay ahead of our competitors. Learn more
We offer a wide range of services, including Routing & Switching, Wi-Fi Access Points and Routers, Passive Cabling Services, Server, Storage, and Firewall Solutions, and Wi-Fi and Router Solutions. Our active switching solutions provide flexible and secure networking solutions for both homes and businesses, tailored to your unique needs.
Our passive cabling services encompass the complete system of cabling and associated hardware required to create the entire telecommunication network, ensuring acceptable system performance from increasingly complex arrangements. Our server, storage, and firewall solutions are scalable and designed to support the growing needs of your business, ensuring the seamless functioning of critical applications.
Lastly, our Wi-Fi and router solutions provide strong and steady signals for the increasing use of smart devices across industries, businesses, and homes. Our WiFi services include survey, installation, system upgrade, troubleshooting, cabling, terminations, and relocation.
Contact our experts for a free consultation on Networking and WiFi Solutions in Qatar.